Unraveling Religion's Talk During A Night Walk
July 8, 2023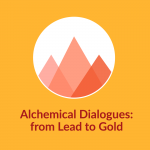 Two friends find meaning in discussing life and reveal kindness as the lasting binding element; is it Plato or Aristotle? It is only how we define love that matters, because only love endures forever. Richard Wicka shares Sartre's 'The Wall' Joel Lesses shares a Chasidic Tale 'The Rabbi's Gift' each finds newness in understanding because this evening we were not alone, we shared an evening walk.

Bio: Richard Wicka is a Buffalo, N.Y.-based media artist and photographer and the proprietor of "The Home of the Future,"a media access center and production/recording studio based in his Kaisertown home. Wicka has been providing a forum for artists in all media, activists, and everyday citizens of his Western New York community since the mid-1970s. He provides interested parties with technical support, studio time, and production tools free of charge, encouraging them to express themselves in ways that mainstream culture has not historically sanctioned. With the advent of internet radio came ThinkTwice Radio in 2006, offering podcasts to anyone with a subject to discuss and the commitment to produce a regular show.
Subscribe to Alchemical Dialogues on iTunes, Spotify, Stitcher, Google Play, or search for us in your favorite podcast app.