Podcast #27- Loss and Grief on the Spiritual Path
October 16, 2022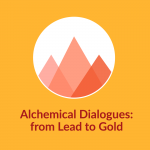 Listen to and share our latest podcast with Amir Peter O'Loughlin.
We are all likely to experience many losses through death before we ourselves transition, some of them very close to home, or in our own home. Psychology teaches us that there are many ways to grieve and many stages to navigate; otherwise, we can become mired in the process. All religions and spiritual paths conceptualize death, especially our own, and these concepts sometimes offer comfort when others die as well. Yet, when a loved one passes, be it a partner, parent, child, or a most cherished friend, the "rubber meets the road." We must go on living and experiencing, even when our world is turned upside down. We need to make choices that help the heart break open, not break down.
Have our spiritual beliefs and practices helped or blocked our grief process? Going forward, does our grief affect the spiritual foundation on which we have built and lived our lives? Can we stop blaming the grief-stricken for not "following the program?" How is our view of our own death—and life! —affected? Is there a way to go beyond platitudes and non-satisfying rituals? If so, how? What, if anything, needs to change?
We invite you to explore these and other reflections in a deeply personal session with friend and spiritual seeker Amir Peter O'Loughlin.
Amir Peter O'Loughlin has been one of Vancouver's foremost ambassadors of interspiritual music for over 40 years. A Psychotherapist and musician by profession, he has followed and taught the Sufi path in the lineage of Hazrat Inayat Khan since 1980.
Along the way, Amir founded the interfaith Universal Gospel Choir, led Universal Kirtan, and produced two highly acclaimed albums of his own contemporary Sufi music ("Merhaba" and his collection of musical settings of Rumi poetry "Opener of Wings" with The Keemia Ensemble). Amir is currently working on recording a collection of songs using the poetry of Hazrat Inayat Khan, teaching Sufi philosophy and practice, and finishing a book of poetry and photography about the passing of his beloved mate, Chloe Majida O'Loughlin, in 2017.
For more information about Amir's music, please visit:
http://inayativancouver.org/sufi-music/
Amir O'Loughlin & The Keemia Ensemble – Opener of Wings
A Glance on the Lake (video of Majida & song)
Subscribe to Alchemical Dialogues on iTunes, Spotify, Stitcher, Google Play, or search for us in your favorite podcast app.